Aretha Franklin, Diana Ross, Gladys Knight o Dionne Warwick han tenido más éxito y fama, pero Irma Thomas es por derecho propio una de las grandes cantantes 'raciales' de la historia.
Venerada en su tierra, donde es conocida con la apropiada distinción de la 'Reina Soul de Nueva Orleans'
Irma ya destacó de niña en el coro de la iglesia baptista Marathon, aunque el gospel se le quedaba corto y antes de cumplir los 20 años grabó su primer sencillo con el sugerente título de (You Can Have My Husband) But Don't Mess With My Man -Puedes quedarte con mi marido, pero no te enrolles con mi hombre-, casi biográfico porque pese a su juventud ya se había casado dos veces y era madre de cuatro hijos.
El mejor compendio de su obra es 'Sweet Soul Queen Of New Orleans', que recopila en 23 canciones su etapa en Minit de 1961 a 1965, principalmente de la mano del gran autor y productor Allen Toussaint, que el fatal destino quiso que muriera tras un concierto en Madrid el pasado 9 de noviembre a los 77 años.
Precisamente de la pluma de Toussaint, cuyas composiciones han sido grabadas por infinidad de artistas desde los paisanos de Nueva Orleans Lee Dorsey o Dr. John a blancos como Elvis Costello-con quien compartió un disco-, Bonnie Raitt, The Band, Warren Zevon, Who, Little Feat, R.E.M. Robert Palmer…, afloran bastantes de los mejores temas del disco.
It's Raining es una balada lastimera con la voz envolvente de Irma Thomas que añora a su amor mientras diluvia, Hittin' or Nothing tiene un ritmo funk contagioso con tremendos punteos de Roy Montrell, vientos, coros y el nervio de Irma.
Es en las baladas y los midtempos cuando mejor se desenvuelve nuestra heroína
Como en Ruler Of My Heart con el piano sugerente de Allen Toussaint, tema que con el título de Pain In My Heart versioneó nada menos que Otis Redding.
Time Is On My Side, de otro afamado autor y productor, Jerry Ragovoy, adorado por Janis Joplin, es probablemente su canción más conocida en un arranque con épicos coros femeninos y una irresistible Irma que canta con garra, segura de que su amante volverá llamando a su puerta porque el tiempo está de su parte. Los Rolling Stones la grabaron casi inmediatamente y consiguieron su primer top10 en Estados Unidos.
El tino para elegir buenas canciones de grandes compositores se cumple de sobra con Breakaway, escrita por la  sublime Jackie DeShannon, que desde la primera nota te invita a bailar con una pegadiza melodía, palmas que son la verdadera percusión y un duelo vocal entre los coros e Irma que te cautiva. La actriz y cantante británica Tracey Ullman la revivió con mucho éxito en 1983.
Es un hecho que Peter Green, cuando la incluyó en el segundo disco de Fleetwood Mac, había escuchado hasta la saciedad Need Your Love So Bad, un blues cadencioso que Irma desgrana con sentimiento arropada por los finos punteos de Roy Montrell.
Una de sus 'fijas' en directo es Moments To Remember, ritmo trepidante soul con los vientos muy presentes y la voz con personalidad de Irma que se desgañita sin que los pies puedan estarse quietos.
Van McCoy, que se forró en los 70 con la invasión de la moda disco, le regaló dos temazos: Times Have Changed, una desgarradora balada con los habituales coros femeninos, y He's My Guy, que Irma va desgranando con sus asombrosos registros.
Incluso en ambientes pop como Take a Look, otra de Toussaint con profusión de violines, Irma impone su estilo para darle una dimensión más profunda, al igual que en While The City Sleeps, una de las primeras composiciones de Randy Newman. "Estamos en las sombras mientras la ciudad duerme" dice ella antes de volver con su otro amor.
Las restantes canciones no son mero relleno. Entre ellas, I Done Got Over It, del también protegido de Toussaint Ernie K. Doe que tuvo su momento de gloria con Mother In Law (¡¡¡La suegra!!!); la clásica de James Brown It's A Man's Woman's World; Anyone Who Knows What Love Is (Will Understand), otra de Randy Newman; I'm Gonna Cry 'Til My Tears Run Dry, del tándem Mort Shuman-Doc Pomus que surtieron de sus mejores momentos a Drifters, o las propias excelentes Wish Someone Would Care y Straight From The Heart.
Irma Thomas, cumplidos los 75 años, sigue más que viva con frecuentes giras, como la que le llevó a España en septiembre de 2014. Esperemos que no se su última visita. Mientras tanto...
   ¡A disfrutarlo, háganme el favor!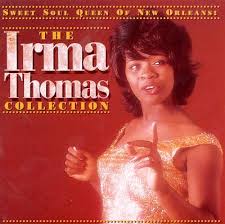 IRMA THOMAS - SWEET SOUL QUEEN OF NEW ORLEANS
      .1.  Cry On (Allen Toussaint)
      .2. I Done Got Over It (Ernie K-Doe)
      ,3, It's Raining  (Naomi Neville (Allen Toussaint))
      .4. Hittin' Or Nothing (Naomi Neville (Allen Toussaint))
      .5. Ruler Of My Heart (Naomi Neville (Allen Toussaint))
      .6. Wish Someone Would Care (Irma Thomas)
      .7. Break-A-Way (Jackie DeShannon/Sharon Sheely)
      .8. I Need Your Love So Bad (Mertis John)
      .9. While The City Sleeps (Randy Newman)
      10 Time Is On My Side (Norman Meade (Jerry Ragovoy))
      11 Anyone Who Knows What Love Is (Will Understand) (Randy Newman/Jeannie Seeley/Judith Arbuckle/Pat Sheeran)
      12 Moments To Remember (Richard Berry)
      13 Straight From The Heart (Irma Thomas)
      14 Take A Look (Naomi Neville (Allen Toussaint))
      15 It's A Man's Woman's World (Pt. 1) (Betty Jean Newsome/James Brown)
      16 Long After The Night Is All Over (Burt Bacharach/Hal David)
      17 Times Have Changed (Van McCoy)
      18 He's My Guy (Van McCoy)
      19 What Are You Trying To Do (Naomi Neville (Allen Toussaint))
      20 Nobody Wants To Hear Nobody's Troubles (A. Steward)
      21 The Hurt's All Gone (Roy Alfred/Jerry Ragovoy)
      22 I'm Gonna Cry 'Til My Tears Run Dry (Doc Pomus/Mort Shuman/Scotty Fagin)
      23 It's Starting To Get To Me Now (Van McCoy)
     Otros discos recomendados: Wish Somebody Would Care (1964), The Way I Feel (1988), Live!, Simply The Best (directo, 1991)